Window security screens are increasingly being considered by aged care facilities as a security measure which not only provides safety for residents but contributes to their sense of well-being.
While the obvious reason to add security screens to openable windows in aged care facilities is to protect residents and staff from unauthorised access, multi-use security screens such as Invisi-Gard offer many more benefits.
Openable windows are desirable for the aged care environment as exposure to natural light and fresh air has been demonstrated to have a beneficial impact on the health of residents. They give residents a degree of control over their personal comfort while offering a safe connection with the outdoors when fitted with security screens.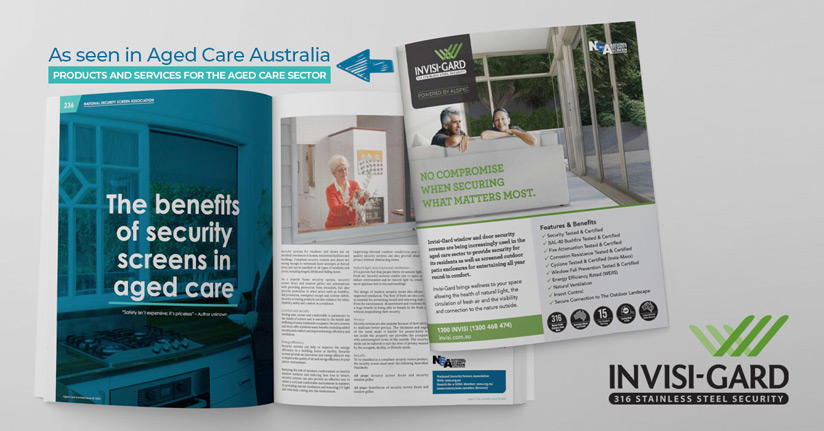 Invisi-Gard screens are specifically designed to maintain light, air and views while adding security to openable windows. Made from tightly woven 316 marine grade stainless steel, the extremely flat mesh is exceptionally clear, allowing views to be appreciated, while promoting natural airflow.
In facilitating natural cross ventilation, the screens have the added potential to reduce a facility's reliance on mechanical cooling systems, leading to energy cost savings. For multi-level facilities, the screens also serve as a fall prevention measure for openable windows, as they satisfy the relevant Australian Standards to resist impact and force.
In bushfire prone areas, Invisi-Gard screens also possess fire attenuation properties and in tropical zones their impact-resistant mesh will help minimise damage caused by airborne projectiles in extreme weather events.
Being a member company of the National Security Screen Association, Invisi-Gard products comply with the latest in regulations and licensing requirements, and contribute to the maintenance of high industry standards.
With security screens installed, aged care providers can have peace of mind that their residents and staff are safe and secure while they enjoy the best possible care environment.