Projects
Coolbinia, WA
The finishing touch to this newly renovated and enlarged home has been the addition of Invisi-Gard security screens to windows and doors in key living areas to keep the home secure.
Renovating this Perth home, the family wanted to create light, spacious, naturally ventilated rooms without compromising home security. The solution? Invisi-Gard stainless steel security screens paired with Alspec aluminium window and door frames.
In reimagining the home, owner Jodi Balhorn, who is an interior designer, chose Invisi-Gard screens because they could help her achieve light, airy living spaces which remained secure, especially at night time.
"It was really important to me to feel secure – I didn't want to have an ordinary flyscreen here," says Jodi, when describing the Invisi-Gard sliding screen doors which feature in her master bedroom.
Overlooking the outdoor pool and entertaining area, the master bedroom is enclosed by 2.8m high Alspec ProGlide High Performance Sliding Doors paired with Invisi-Gard sliding security screen doors.
Knowing the security screen doors are made from extremely strong 316 marine grade stainless steel mesh has given her peace of mind when it comes to feeling safe.
"No one is getting in here easily!"
Ventilation was also an important factor in choosing Invisi-Gard, particularly for the master bedroom and the children's bedrooms.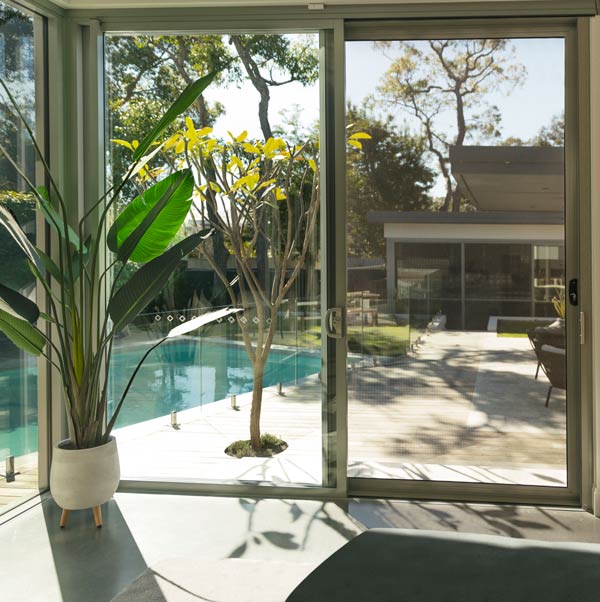 "Invisi-Gard screens allow me to leave the doors and windows open at night and pull a really good breeze through the house without having to have the air conditioning on," she says.
The renovation project involved bringing the older portion of the home at the front of the site up to date while expanding the rear to include new large living spaces, outdoor entertaining and recreation areas.
Invisi-Gard security screens also feature on the windows of the new pool and exercise room at the rear of the property. The screens accompany Carinya Select double hung and sliding windows, allowing them to stay open to encourage natural airflow and ventilation whether or not the room is in use.