Projects
Timber Grain Screen Doors for Security
Get the look and feel of natural wood with the convenience and durability of aluminium when you choose Invisi-Gard stainless steel security screens with a timber look finish.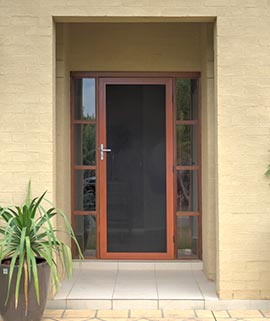 Natural wood is a popular choice when it comes to creating a warm and welcoming entry to a home, but adding an aluminium security screen over your prized timber entry door may compromise that look. Now, thanks to Invisi-Gard, you have the option to powder coat your screen door with a completely natural-looking timber grain finish.
Available in a wide range of finishes
Whether you prefer pale beech tones or warm walnut hues, Invisi-Gard Security Screens can be powder coated with an extensive range of finishes designed to replicate the look and feel of natural wood. The timber-inspired product allows the durability and low maintenance benefits of aluminium to be combined with the visual appeal of natural wood grain.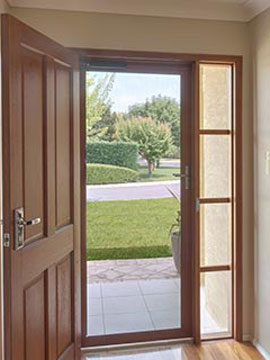 To create the finish, a photographic process is combined with powder coating to cover the aluminium in the desired effect. Powder coating is the process whereby a dry powder is evenly sprayed on a surface using an electrostatic charge. The charge holds the powder on the surface while it undergoes a heat curing stage which fuses the particles, creating a hard finish which is more durable than standard liquid paint. The coated aluminium is extremely hard wearing, won't warp or bend, and doesn't require the same maintenance as natural wood products.
Match the features of your home with a natural-looking design
The large range of finishes available ensures the aluminium frames can be matched to virtually any existing wood finish and made to blend into existing colour schemes or styles. The end result not only looks but feels like textured wood, so the only change you'll notice is the easy care and sustained good looks.
Being able to combine the natural beauty of wood with the convenience of aluminium means you don't have to compromise on the look of your home when you select an Invisi-Gard security screening product.
The natural beauty and timeless appeal of wood with the capabilities of aluminium.
From traditional warm woody hues to dark modern ashes, Invisi-Gard Security screens can be powder coated with the most extensive range inspired by the natural world.
Enjoy the natural beauty of timber combined with ease and durability of aluminium. A textured woodgrain finish for Invisi-Gard Security screens.
The two-step photo imaging process. First, the aluminium in a luxuriously textured Super Durable powder coating. Then images of timber grain are sublimated into the powder coating, ensuring absolute photographic precision.
Aluminium that looks and feels like timber.
Reasons for a Timber Grain look
Beautiful
Just like timber, creates an environment of warmth and style.
Durable
50% more durable than standard powder coating and will never peel or rub off. Unlike timber, aluminium is resistant to termite attack, and it will never warp or rot.
Sustainable
No logging, no harmful greenhouse gases from paints and stains and no worries recycling it at the end of its life.
Effortless
No sanding, painting, staining or oiling required. Lightweight aluminium is quick and easy to install.
These days homeowners are spending big money on timber entry doors. Now you don't have to compromise the look of these entry doors. You can add an Invisi-Gard Entry Door in a timber grain look to match.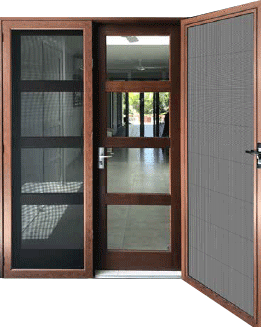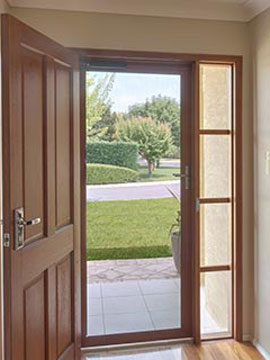 Speak to us about wooden screen doors and timber grain finishes
Reach out to the experts at Invisi-Gard if you're looking to purchase wooden and timber grain finish screen doors. We have designs available in a wide range of finishes based on your needs and preferences. Got a question about our products? Feel free to get in touch and we'll happily provide advice and support about the best option for you.
Our friendly team offers a great level of customer service to homeowners across Australia.
We can also help with door screens along with Invisi-Scape and Invisi-Maxx products.